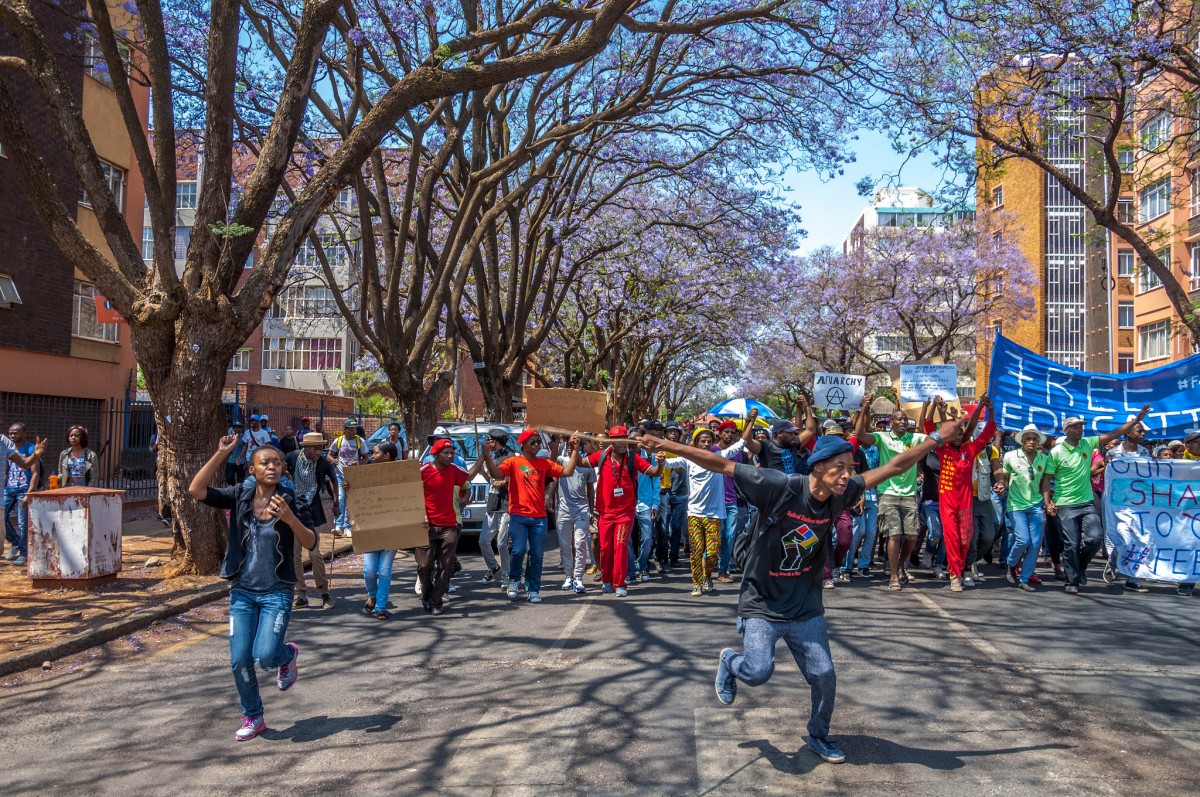 Tertiary Education Demonstrations Strike Tip of Iceberg in South Africa
The recent student protests in South Africa over tertiary fees is not something to panic over or to wince about. This is a view upheld by many technocrats in the communities.
With a bit of background, South Africa is not new to student protests. June 16, 1976, students from various low-class suburb schools in Soweto, took to the streets, protesting against the introduction of Afrikaans as a medium of instruction in schools. According to reports, about 20,000 students participated. The heavy-handedness of the police used tear gas and live ammunition, killing between 176 to 700 students.
With the above history in mind, one can agree that student protests are not a new phenomenon. According to the principles of a Democratic society, it is encouraging to use demonstrations as a means of speaking out against what the opposition.
In late 2015, the wave of protests engulfed numerous universities across South Africa. Those affected included: Wits, Johannesburg, Pretoria, Rhodes, and UNISA universities. The demonstrations held by activists who were against the high fees the universities were charging for a degree program.
The new South Africa, after apartheid, believes that education is one of their basic rights and must not be charged exorbitant prices, thus, segregating the poor. Most of the students affected come from poor backgrounds and hope education can bring prospects of a better life.
With a country reeling under the yoke of unemployment, tertiary education is one of the solutions for the African economic powerhouse. University graduates are expected to gain expertise in different sectors, such as engineering, medicine, law, and science. However, the fees are pegged at sky-rocketing levels, leaving education as only a dream and desire.
The segregationist access to higher education, through the use of raised fees, is one if Africa's problems in the new millennium. A section of the community holds the view that it is due to government failure to aid deserving, and yet, underprivileged students. Some blame nepotism, corruption, and racism. However, if it can be believed, the problem concerning entry into a university is not about fees or the price thereof.
One is of the view that the protest witnessed in South Africa dubbed, "Fees Must Fall" is based on the political, social, and economic imbalance of society. Politically, different government parties are fighting in the public arena, such as in the print and broadcasting media, with such promises as free education and employment.
Racism is still rife in the South African society, which was witnessed through attacks on Twitter and Facebook from black citizens who had been called, "monkeys" by one white lady. This happened when she visited Durban Beach and found it full of black people. In this instance, blacks are against white people, who are behind those big oak doors in universities, pouring over books as chancellors or registrars. They are irritated by those white, black, or Indian students who are glancing and typing on their laptops or iPads without any sense of concern. They do not know why these black folks are raising the banner.
The Fees Must Fall protest is just a scapegoat for the lack of jobs in the construction industry and social services sector, even if one has a degree. The economic sector is only reserved for the elite and is full of nepotism. A society where "No Wanted" posters are at every corner.
With the tide of economic hardships engulfing the whole of the world, one is of the opinion that activities done in frustration will be misinterpreted as scapegoats for something else. One belief is that the social, economic, and political affairs of South Africa are responsible for student protests against fee hikes rather than the fees themselves.
By Samuel Charandura
Sources:
South Africa: Overcoming Apartheid
ibTimes: South Africa: Fees Must Fall protests prove post-Apartheid 'born free generation' is a myth
CNN: South Africa's 'fees must fall' protests are about more than tuition costs
Image Courtesy of Paul Saad's Flickr Page – Creative Commons License